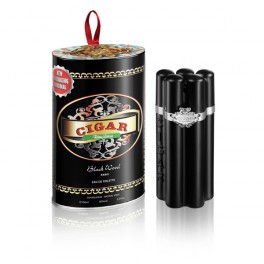 View full size
Remove this product from my favorites
Add this product to my favorites
CIGAR BLACK WOOD
CIGAR BLACK WOOD
by Remy Latour
A new Men's perfume launched by Rémy Latour Perfumes under the precious name of Cigar. It is inspired by the Orient and contains dark and seductive spices and mysterious woods.
Composition of the fragrance offers luminous accords of grapefruit in the very top, along with aromatic blend of myrrh and lavender.
The dry out accentuates masculinity with combination of highlight oriental notes made of Cedarwood, Patchouli, Gaiac wood and Tonka bean.
Top note

Bergamot, Grapefruit, Saffron, Nutmeg.

Body note

Lavender, Violet, Coconut, Myrrh.

Dry out note

Cedarwood, Patchouli, Gaiac Wood, Tonka Bean.